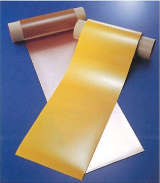 The raw materials of printed circuit board, the key device in the information and communication society, are developed and produced in our business segment for electronics materials with the four core technologies described below.
1. The surface treatment technology that makes glass cloths show the best performance
2. The blending technology that combines various types of modifier and chemical to various types of thermosetting resin
3. The resin coating technology
4. The laminate technology
Our products spread in the entire field of materials used in printed circuits, fore example, from prepreg material for rigid PWB(printed wiring boards) to FPC(Flexible Printed Circuit).
The customers' reliance on Ariswa is based on the supremacy in the performance, for example, flex resistance at high temperature and with extremely narrow gap, anti-migration property, and thermal durability, and on the evaluation technology in the production process at customers' sites.
Our products and services have a long successful track record that places us at the top of the industry!

Coverlay
Products lineup based on adhesives for various applications.Various types of films with a wide range of thickness are available.


Copper-clad laminate
3 layer type has a product lineup based on various types of PI films and adhesives for various applications.
Casting, and laminating methods are adopted for the single-sided, and the double-sided FCCLs, respectively.


Interlayer adhesive sheet
Glass epoxy prepreg, adhesive itself, double-sided adhesive coated etc are available for various applications and with various compositions.


Others
Particular products based on our technologies, such as mixing, coating, and laminating are also available.
For inquiries to Electronic Materials Business Division
Sales & Marketing Department
Electronic Materials Sales Group 1 / Electronic Materials Sales Group 2 (Tokyo Branch)
TEL:
+81-(0)3-3861-3562
FAX:
+81-(0)3-3861-2140
E-mail:
tpc-t@arisawa.co.jp
Electronic Materials Sales Group 1 (Kansai Sales Office)
TEL:
+81-(0)6-4703-3168
FAX:
+81-(0)6-4703-3169
E-mail:
tpc-o@arisawa.co.jp
Electronic Materials Sales Group 3
TEL:
+81-(0)3-3861-3509
FAX:
+81-(0)3-3861-2140
E-mail:
circuit@arisawa.co.jp