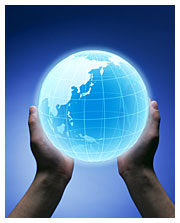 Arisawa as business came into being in 1909 with the production of Battenberg lace, where it cultivated expertise that would later attain a new height with the epochal introduction of glass fiber. What followed were a string of novel materials from Arisawa featuring unheard-of properties, to which the company went on to apply innovative technologies. This process enabled Arisawa to build up coherent production systems and a unique technical edge integrating the "weaving, coating and molding" elements while consistently fulfilling customer needs.
Arisawa's current offerings include, among others, electronic materials for use in PCs, mobile phones, etc., industrial application structural materials (e.g. honeycomb sandwich panels for use in aircraft interiors), electrical insulating materials and display materials, all of which contribute to the development of various industries. We at Arisawa Mfg. Co., Ltd. have our mind set on opening a vista for the future as we remain proactive in our efforts to develop innovative materials.
* "CIC" stands for "Creation, Innovation and Challenge".

On the basis of the motto "Creation, Innovation and Challenge", we pledge to:
(ⅰ) create new values and enhance customer satisfaction;
(ⅱ) discover customer demands and create new businesses with our creative technologies; and
(ⅲ) strengthen corporate structure by improving our quality and productivity.


(ⅰ) We compare what we are today with what we were yesterday, rather than comparing ourselves with others.
(ⅱ) We stand in each other's shoes and do what we think is the best for each other.
(ⅲ) We fulfill our own roles and responsibilities for zero accident.


Arisawa pledges to supply the high quality product that meets the reliability and needs of the customer by standing in the customer's viewpoint.


Company Name
Arisawa Mfg. Co., Ltd.
Head Office
Minami-honcho 1-5-5, Joetsu-shi, Niigata-ken
Representative
Yuta Arisawa, Representative Director & CEO
Inauguration
April 8, 1909
Establishment
July 1, 1949
Stock
Listed on 1st Section of Tokyo Stock Exchange
Capital
7,458,242,000 yen (as of Mar. 31, 2018)
Net Sales
Consolidated: 40,909,534,000 yen (year ended Mar. 31, 2018)
Non-consolidated: 28,503,870,000 yen (year ended Mar. 31, 2018)
Ordinary Income
Consolidated: 4,044,247,000 yen (year ended Mar. 31, 2018)
Non-consolidated: 2,451,445,000 yen (year ended Mar. 31, 2018)
No. of Employees
592(as of March 2018)
Average Age
42.5years (as of March 2018)
Lines of Business
Manufacture and sales of electronic materials, optoelectronic materials, electrical insulating materials, industrial structural materials, and so forth.
Business Locations
Head Office: Joetsu-shi, Niigata-ken
Branch: Tokyo (Yanagibashi, Taito-ku)
Sales Office: Kansai (Nishinari-ku, Osaka)
Factories: Minami-honcho, Nakadahara, Nakadahara-nishi (all in Joetsu-shi)
Laboratories: Technical Development Center (Nakadahara)
Associated Company
Arisawa Fiber Glass, Arisawa Jushi Kogyo, Arisawa Sogyo, Color Link (Japan), Satosen, Thinflex Corporation, Topflex Corporation, Protec International Holdings Co,.Ltd., Protec Arisawa Europe, S.A., Protec Arisawa America, Inc. and other 6 companies